t h e w e b s i t e o f D u t c h f a s t c a r i c a t u r i s t J o e p B u i j s
"Joep is the absolute top. Book him." October 2010.
Prof dr. Willem Vermeend, Minister of Social Affairs,
Secretary of Finances 1994 - 2002

Thank you for checking out my website. Probably you have seen that a drawing by one caricaturist is very
different in comparison with the style and presentation of another. As with one person to another..
And that is exactly the same with people and caricaturists..
Contact me (+31 (0)6 51502879) for additional information or/and a suitable tender. You'll be happy :))
"Joep makes you feel relaxed and at ease when he pinpoints your appearance on paper. He has an eye for details witch he
brings in a swift way, in hardly no time. So he can draw many people without having the feeling that you're waiting.
What I've seen of his work; always a good characteristic in a positive way of the person being drawn. Besides, Joep is a nice
man to be with and his work an 'asset for remembrance' of your party, drinks or business conference!" October 7, 2010
Top qualities: Personable, Expert, Good Value
Dolf Groeninx van Zoelen, ceo and owner at Grozo Vastgoed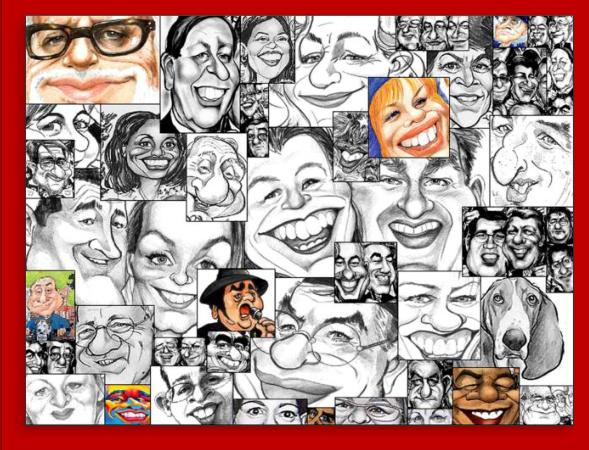 PREVIOUSLY EMPLOYED BY. : JVC EUROPE - VNU - AJAX - ERNST&YOUNG - DE LIBRIJE - OAD - MINISTERIE VAN SOCIALE ZAKEN - DELOITE & TOUCHE - NOORD HOLLANDS DAGBLAD - MINISTERIE VROM -

HEWLETT PACKARD - JOHMA - GTI - AVENTIS - NCRV - TOSHIBA - FNV - C&A - BLOKKER - WOLTERS KLUWER - HEINEKEN - VAN GOGH MUSEUM - POLITIE AMSTERDAM AMSTELLAND - IND - ABN AMRO BANK

- GEMEENTE DEN HAAG - RABO BANK - NUTRICIA NEDERLAND - KONINKLIJKE LANDMACHT - KPMG - GAK - CMG - KLPD - RANDSTAD - INTERACCESS - TROS - BMC GROEP - MINISTERIE VAN JUSTITIE -

CHEVROLET - COMPUWARE - GUINNESS - CENTRIC - DBS - RTL4 - POSTBANK - CAAP - PHILIPS - TATA STEEL - TUI - ETC..ETC...


Welcome. So, caricatures. Many, fast and top level? You have found the right caricaturist. My name is Joep Buijs. I am a classic caricaturist. I guarantee lasting
quality caricatures. No digital trickery or maskerade, no cartoon cloning, no pricefighting. Time and time again I look into a happy and pleasantly surprised
face after I have shown the finished caricature to the person sitting opposite to me. At corporate events, international tradefairs, conferences and parties I
have drawn thousands of unique people. Each within 3 - 5 minutes.
Subtle and exciting entertainment. Enjoyed by your family, friends, colleagues and..clients! I am fluent in English, adequate in German, practical in French..
Unlike many other sketch artists I am educated in the best Dutch Art Academies. Feel free to check out my paintings, portrait commissions, etc.. at
www.joepbuijs.nl.
As a professional caricaturist, I always choose to make a positive caricature with cheerful radiation, full of life, energy and a comfortable resemblance.
Pure drawing talent combined with enduring quality entertainment.
Price indication €500,- excl. (VAT) (1 - 4 hours.) A3/A4-format paper. Drawings in black/white. Standard delivery with pieces of elastic. On request tubes
and/or logoprints on paper can be supplied. Requisites: a lust for laughter, 2 chairs and a light provision.
C O N T A C T






"I enjoy life, the whole phenomenon of 'existence'. You, yes you are probably a bigger miracle than me. Wait, let's share some laughter. You do not need to sit still. Just look at me from time to time.
I will draw your caricature, and yours, and yours, and yours, and yours, and yours, and yours, and yours, and yours. Yes, yours too and yours. Yours? Are you sure? Ofcourse, I'm only joking.."